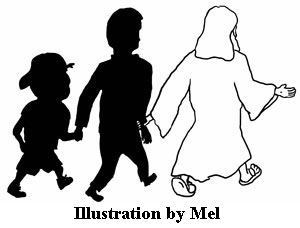 In my post last week, The Grieving Process: What Does it Mean, I emphasized that if adults could grab hold of what it means to GRIEVE, then we would be better equipped to know how to help children during a time of loss in their lives.  Using Matthew 5:4 from The Sermon on the Mount as a reference, we explored the meaning of grieve.
I will be going through the steps most often associated with  "how to grieve"  in the coming weeks, but today, I want to introduce you to people who caught the vision and immediately wanted to get involved in the process to help children in grief.
Chris: I met Chris at my local bank when I went in to take care of some business.  During my visit, I briefly explained to Chris that I had just published a book.  He wanted to know the name of the book and what it was about.  I gave him a brief description and then turned my attention back to the business at hand.
However, Chris wanted to know if I had a website.  I told him I did and he clicked onto my website and began reading all about the contents of Helping Hurting Children: A Journey of Healing.
Obviously my curiosity was up since this manager of a bank expressed such a great interest in my book.  So, I finally said to Chris, "may I ask you why you are interested in this book?"
It was then he told me the story of his girlfriend's little 8-year-old boy who was going through a very difficult time with the divorce of his parents.  Chris ended by saying, "I want to help this little guy. Do you have a copy of your book you can sell me now?"
And so it was, right there in the bank,
Chris caught the vision and got involved
in helping a child in his life who was hurting from divorce.
Kim:  Kim has recently opened up Enchanted Cottage in our town of Orange, Texas.  Kim specializes in tea parties and birthday parties for children, along with holding workshops on etiquette.
But, recently Kim saw another way her business could be used.  Having been a foster parent for over twenty years, Kim sees first- hand the losses and hurts children experience.  Kim also sensed that there are many kids in our community who deal with losses every day, and that perhaps, they are being overlooked for some reason or another.
So, Kim invited me to teach a four week workshop at Enchanted Cottage this coming November. Flyers will be sent out to all the churches in our community and posted on the windows in businesses, inviting parents to bring their children to attend this faith based workshop.
Out of Kim's heart and life-long ministry to foster children,
she expanded her vision to the whole community
to help hurting children.
Emily: Emily was one of the first people to purchase a copy of my book.  Her words to me at the time were:
"My children aren't experiencing any specific losses,
but I want to prepare them for things they might encounter on an everyday basis.
I will be using this as a devotional book."
***********
Perhaps you might be thinking, "I get what you are doing, Martha.  You are just giving a sales pitch to get people to purchase your book."  I can't deny that.  Obviously, I didn't spend hours researching, writing, and investing money into a book just to have it sit on the shelf.
But, I hope you will hear my heart as I explain what I believe is a God-given vision.  Andy Stanley, author of Visioneering had this to say about vision:
Visions are born in the soul of a man or woman who is consumed with the tension between what is and what could be. Anyone who is frustrated, brokenhearted, maybe even angry, about the way things are in light of the way they believe things could be, is a candidate for a vision.

Visions form in the hearts of those who are dissatisfied with the status quo.  Vision carries with it a sense of conviction.  Anyone with a vision will tell you this is not merely something that could be done.  This is something that should be done.  It is this element that catapults men and women out of the realm of passive concern and into action.
And that, my friend, is what has been birthed in me.
I am broken-hearted over the losses children are experiencing today
I am tired of the status quo of thinking about it, pondering the situation, but doing nothing about helping them.
I have a conviction that parents, grandparents, and any lay person can help them just by getting involved.
This conviction has spurred me to action.
Won't you join my granddaughter Hannah and me, Chris, Kim, and Emily in this crusade?  Click onto my website and read the PDF: Suggestions for Using the Workbook.  After reading it, I believe that you too, will:  Catch the Vision and Get Involved.
With God leading us, you and I can take the hand of a child and lead him into a bright future in spite of the losses that may surround him.